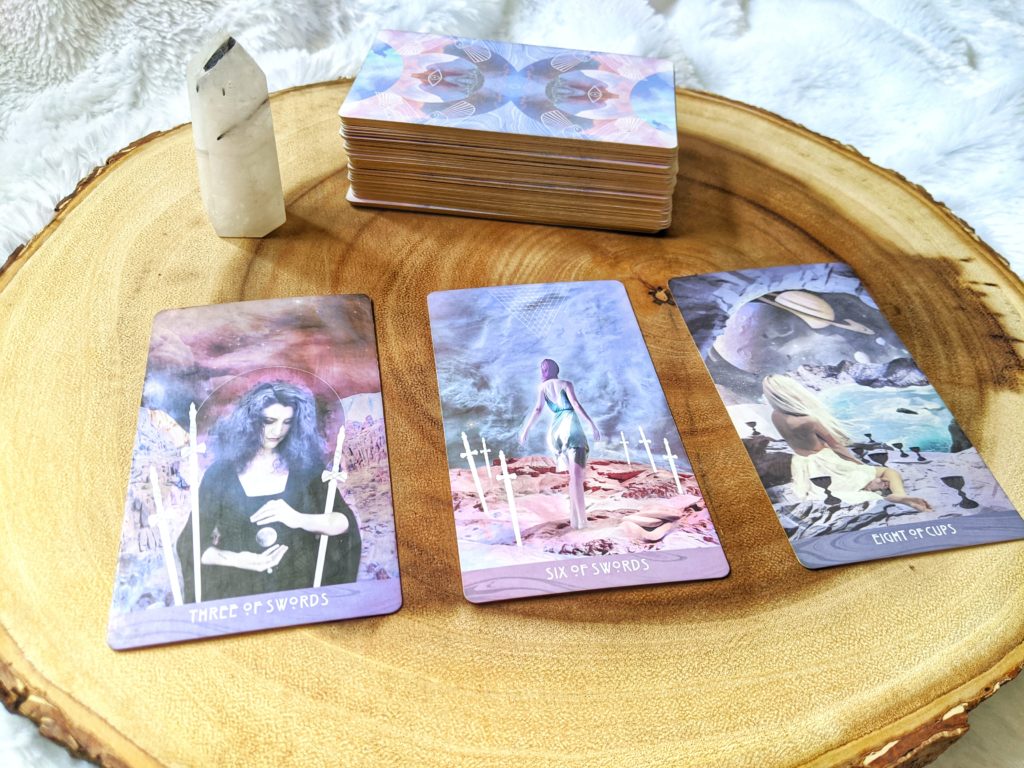 I've been going through a breakup. No, not with my partner…with my tarot deck.
Since I started reading, I've been relying very heavily on my Starchild Tarot Deck.  I pined after it.  I looked at it on instagram longingly and finally bought it three years ago.  It was truly love at first sight.
Although I learned on the Coleman Smith Rider-Waite, the Starchild Tarot became my go-to for both personal practice and with client readings.  It was my first deck that really worked well, for both and during almost every reading I would hear, "Those cards are beautiful."
So what changed?
It's not that I've lost that loving feeling.  I still resonate with the cards and I think this deck is STUNNING. (There has not been a reading I have given with this deck where people haven't commented on how beautiful the cards are.)
But I've noticed a shift lately. The deck just isn't resonating the way it used to. I find it harder to relate to. It doesn't seem to be able to handle this big pandemic energy.
I have heard other readers talk about this but this is the first time I've experienced it personally and I think it's something that is hard to completely comprehend until it starts happening to you. 
Sometimes I find myself just staring at cards that used to easily trigger my intuition in a second or two and feeling a little bit dumbfounded.
So I experimented a little. I tuned into my intuition and asked which deck I should use at that moment. I switched to the deck that came to mind, just to see what would happen. (Sidenote: I'd be lying if I said I didn't have a moment when I genuinely thought I was losing my intuition. The struggle is real, even for a pro.)
Sure enough, I was back up to speed right away. Things lit up and stood out the way they always do and I had no problem reading for myself or others with it.
I've known for a long time that some decks aren't meant to go everywhere with us and after reading with this one for three years, it might be time to retire it as my go-to. It could be temporary, as in "We are on a break." Or it might be long term, where we see each other occasionally but don't connect in the same way we used to.
I'm not sure yet. All I know is that I'm feeling the pull to try something new.
Lately though, I feel myself entering a different life stage and I'm starting to sense that this deck and I need a little break.  It's okay….it's mutual…even if it does feel a little sad.  I still get nostalgic for my lovely Starchild Tarot.  But I know this is a time for exploration.  I'm entering a new stage as a person and a business owner.  After all, I turn 35 in a month and I hear that's when you finally get wise (I'm lying. I don't hear that. I just want it to be true.)
So if you have been finding yourself feeling like you aren't quite resonating with your favorite deck anymore, it might be time to see what else is out there. Open yourself up to new tarot horizons. You don't have to drop your favorite deck like a bad habit. It just might be time to allow a new deck and energy into your life.
A little space and a little time might bring you right back to where you started but, we all need a little change sometimes.
© Sheila Masterson 2020 All Rights Reserved